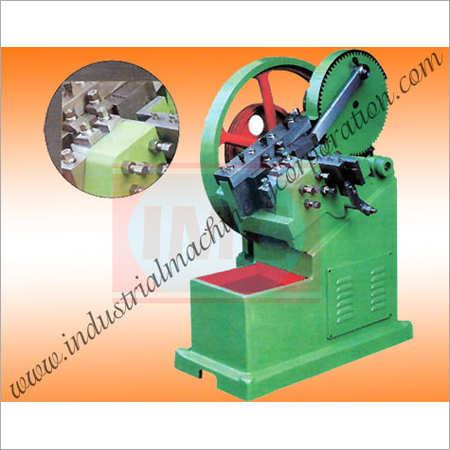 Product Description
Backed by our adroit and experienced professionals, we are able to manufacture, supply and export precision designed Flat Die Thread Rolling Machine. Known for its high performance and hassle-free operations, our machine is extensively used for aluminum die cutting and thread rolling in different manufacturing industries. Featured with a die head and head stock, this type of machine is capable of rolling different types of threads like UNC, UNF, ACME, BSF, BSPT and NPT. Offered Flat Die Thread Rolling Machine undergoes stringent quality testing before final shipment from our unit.
Each work in our industries requires specific machine, which gives reason to manufacture a variety of machines for different purposes. This is indeed helpful, but when it comes to pick the right machine for the right work, users get in a tight spot. Lets talk about making ridges on bolts. Now, there are different companies that claim their machines to be the finest in doing this job, however when it comes to the actuality, the world knows that Flat Die Thread Rolling Machine is the only one to do it with excellence.

If you have been perplexed with the variety of options available, then you have landed on the right spot, as here we will guide you in and out about this special cast of Flat Die Thread Rolling Machines.

This article will give you all the information about this Thread Rolling Machine, which is specialized in making ridge on bolts.

We use bolt in our daily life very often, but rarely think how these are made? Or, how they get ridges on it? Well, answer of these questions is Flat Die Thread Rolling Machine. It does not really make bolts, but gives them shape.. The flat die thread rolling machine, also give ridges to the bolts, which are used in the supply of liquid material, from one place to another place.

It comes in various models. There are models with which one can make helices on a bolt, whose diameter is less than an inch. Speed of execution of a thread also varies from model to model. Base model of this Machine manufacture 80 pieces in one minute, while the top model of this Machine produce 20 pieces in one minute, but the top model, create helices on four inches bolt.

The electricity consumption of Flat Die Thread Rolling Machine also varies with their models, as the base model guzzles two horsepower while the top model guzzled twenty horsepower, which is really a big number, in the consumption of electricity.

If you are planning to start the business of producing thread, Industrial Machine Corporation is one of the best manufacturers of these Flat Die Thread Rolling Machines.

Flat Die (For thread the job) is also avialable in our ready stock. The D2 raw material is use to manufacture of these flat die.

Technical Specifications
| | | | | | | | |
| --- | --- | --- | --- | --- | --- | --- | --- |
| Model No. | FDTRM-1 | FDTRM-2 | FDTRM-3 | FDTRM-4 | FDTRM-5 | FDTRM-6 | FDTRM-7 |
| Min. Max. Dia Can Be Rolled | 1/16"x1/4" | 1/8"x3/8" | 1/8"x1/2" | 1/4"x5/8" | 1/4"x3/4" | 1/4"x7/8" | 3/8"x 1" |
| Max. Length of Thread | 2" | 2.1/2" | 3" | 3" | 4" | 4" | 4" |
| Dimension of Fixed Dia | 3"x2"x 1" | 5"x2.1/2"x 1" | 5"x3"x1" | 6"x3"x 1" | 6"x4"x 1" | 7"x4"x 1" | 8"x4"x1.1/2" |
| Dimension of Moving Dia | 4"x2"x 1" | 6"x2.1/2"x 1" | 6"x3"x1" | 7"x3"x 1" | 7"x4"x 1" | 8"x4"x 1" | 9"x4"x1.1/2" |
| Production in Pieces Per Minute | 80 | 60 | 60 | 50 | 30 | 30 | 20 |
| Power Required in H.P. | 2 | 3 | 5 | 7.5 | 10 | 15 | 20 |
Enter Buying Requirement Details
Contact Details
INDUSTRIAL MACHINERY CORP.
E452, Phase-6 Focal Point, Ludhiana - 141002, Punjab, India
Phone :08045478450
Fax :91-161-4643290
Mr. Davinder Singh (Proprietor)
Mobile :08045478450